ALMANAC at IoT Week 2016
Posted by on July 29 2016 08:52:27
---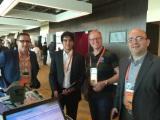 ALMANAC project participated during the sixth edition of the IoT Week, from 31st May to 2nd June 2016 in Belgrade, Serbia. The event was devoted to the creation of ecosystems, partnerships and value chains across the domains to ensure rapid deployment of interoperable and replicable IoT solutions.
---
Extended News
---
IoT Week 2016 contributed to start the understanding of the future of the Internet of Things in large scale deployments considering the technological dimension but also user acceptance, security and privacy, business models, etc.

Claudio Pastrone, Maria Teresa Delgado (ISMB), together with Marco Jahn, Jose Angel Caravajal (FIT) and Thomas Gilbert (ALEX) represented the ALMANAC project during the entire duration of the event.

An exhibition space was maintained with a demo demonstrating the ALMANAC platform, focusing on the waste and water management scenarios. Results from the ongoing waste pilot deployment in Turin and developed dashboard were presented at the booth.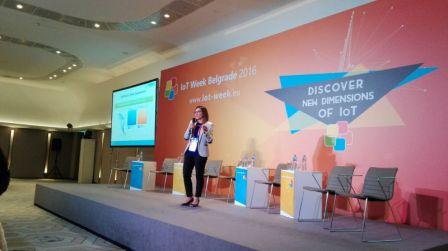 On Research Day (June 2nd), the Activity Chain 3 of the IoT European Research Cluster (IERC), corrdinated by Maurizio Spirito, organized a session chaired by Claudio Pastrone and Maria Teresa Delgado in which FP7 projects presented to the IoT community their main tangible outcomes and lessons learned. WIthin this context, the IoT Open Platforms portal was promoted as a directory for IoT solutions, referencing main FP7 open technologies and results that can be exploited to create new IoT applications.

Furthermore, ALMANAC also participated in the organization of the IoT week hackathon where the best ideas in two categories, best "non-developer" and best developer applications, were awarded with cash prices.