Almanac improves quality of life for asthma patients in Stockholm
Posted by on June 29 2016 10:15:23
---
An application for people with asthma, developed by Swedish partners CNet and based on the ALMANAC platform, came second in the Stockholm Smart City Sprint Hack on 22nd June
---
Extended News
---
Take 3-4 colleagues with you, be ready to integrate open.stockholm.se open data with your own data from sensors, bring your own tech or use the one available at the event; and then create a mobile or web service that could make Stockholm a better city for everyone.

This was the challenge presented by the City of Stockholm, inviting developers to join their Smart City Hackathon to create innovative IoT-based apps for use in smart cities. A challenge which ALMANAC partners CNet decided to take on by using the Almanac Smart City Enablers as the platform. One week was given to prepare a solution, and then five hours on 22nd June to finalise the application.

The CNet team chose to focus on making the city a better place for people with asthma.

- Studies have shown that if you have asthma and have been in a polluted area, the risk of suffering a severe asthma attack within 24 hours is significantly increased so we decided to focus on showing how we can improve the quality of life for people with chronic disease conditions like asthma, living in or visiting a city, explains Peter Rosengren, Managing Director of CNet.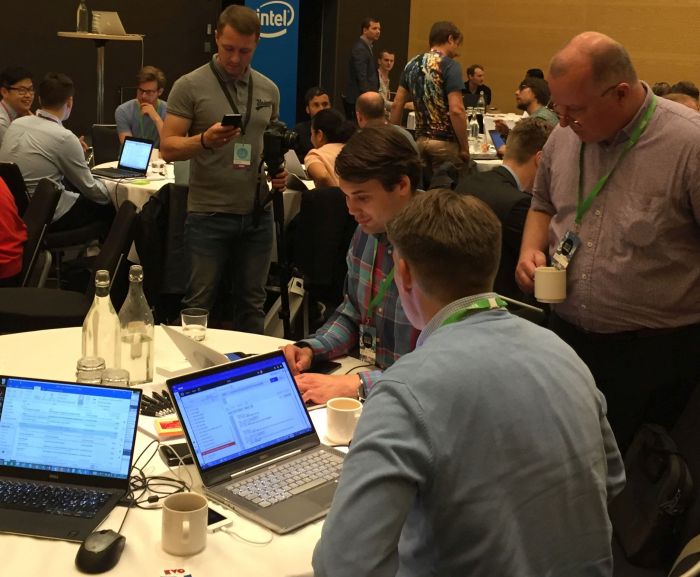 The result was two applications: one establishes the air quality by reading real-time values from air quality sensors around Stockholm, displaying them on a map. The other one, named AsthmaWatch, has more advanced features, enabling a user to blow in a lung capacity meter and checking the lung capacity against the air quality at the closest sensor to the user location, issuing an alert if the area is risky. The app also checks with the userís calendar for booked meetings during the day and predicts pollution at the meeting location, issuing warnings if problems might occur.

- The AsthmaWatch solution uses the full solution of Almanac Smart City Enablers and more or less involves all aspects of Almanac. AsthmaWatch also integrates with the Swedish National Health Account and CNetís own home monitoring solution; the LinkWatch ehealth cloud, demonstrating a federated cloud solution, says Peter Rosengren.

The solution achieved a joint second place out of 15 entries as the only one managing to integrate real-time environmental data.

- It was a really good experience that we could get so much out of Almanac. We learned much about what works well and what does not work as well with Almanac since two of our developers participated without any previous experience with Almanac. We were even asked whether we needed investors for the product, Peter Rosengren says with a smile.

Read more about the hackathon here.